Welcome to Kagoshima!
We hope we can convey the exquisiteness of Kagoshima ingredients, and "Kagoshima Soul," through local Kagoshima cooking!
Restaurant information
Our top-recommended course menus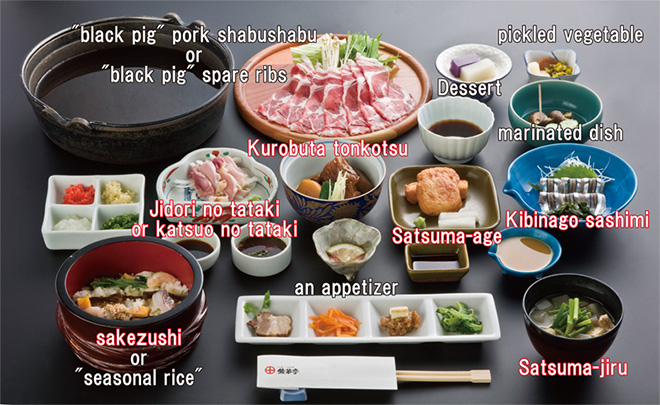 Taka course 貴コース ——5,500yen
The top recommendations from the restaurant that will fully satisfy with local Kagoshima cooking!
You can order "black pig" pork shabushabu, or "black pig" spare ribs.
●You can also order half-size portions of "sakezushi" and "kisetsu gohan(seasonal rice), and thus sample both flavors!
●Our seared chicken is served part-raw. If you are not a fan of raw meat, we can add more heat to it and cook it for longer!
Recommended lunchtime course menus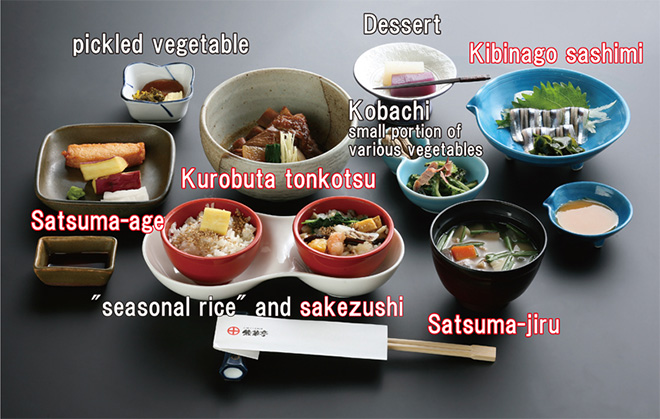 Otanoshimi course おたのしみコース ———-2,530yen
Kagoshima local cuisine coupled with a renowned Kumasotei specialty: sakezushi and "seasonal rice."
Distinctive Kagoshima local cuisine
Kurobuta tonkots 黒豚のとんこつ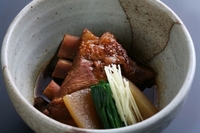 Our tonkotsu broth is made by boiling Kagoshima black pig pork ribs in three stages, with such ingredients as miso, shochu, brown sugar, and regional sake. The broth, which our restaurant has served ever since it was founded, not only boasts an outstanding gloss and luster, but a profound flavor too.
Sakezushi 酒ずし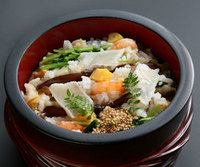 Kumasotei's renowned sake-seasoned sushi is carefully prepared from nine types of seafood and mountain products. These are pressed together with 180g of rice and 180ml of local sake, and left to ferment overnight to become "Nare-zushi." Our restaurant's recipe has been secretly handed down through generations of female cooks.
●You don't even need to pre-order it!
Kibinago sashimi きびなごの刺身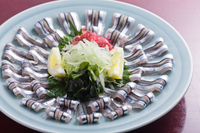 All of our blue sprats are caught in the ocean near Kagoshima. And for sashimi, we strongly recommend you eat local fish! Our sashimi derives extra flavor and a refreshing taste courtesy of our homemade vinegared miso. Blue sprats are so shiny that they are known as "Droplets of the Ocean," meaning they are as good on the eye as they are on the tongue!
Satsuma-age-Fried さつま揚げ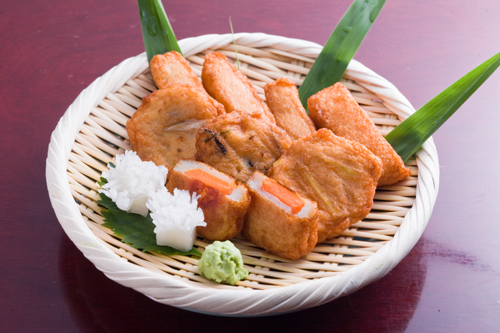 For our "Satsuma-age" fried dish, we rely on a sumptuous lineup of lizard fish, cod, flying fish and golden threadfin bream. In Kagoshima dialect, we call this dish "tsuke-age." At first, you can simply enjoy the fish just-fried and piping hot. Then you can add wasabi soy sauce!
Jidori no tataki 地鶏のタタキ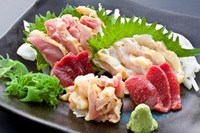 We use one of Japan's top-3 local free-range chickens, the "Satsuma Chicken," for our chicken sashimi dish. It is first lightly broiled, then served seared. The wholesome flavor and delicate texture continues to be loved by locals in the present day. We know the chicken farmers, so we know we are using only the freshest local chicken.
Satsuma-jiru さつま汁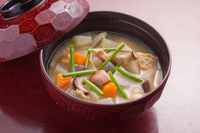 Since the distant past, local households have been making various types of "Satsuma-jiru" soup. We make ours by extracting the soup stock from Satsuma chicken bones and adding local chicken meat plus lots of local vegetables. Mugi miso-shiru (barley miso soup) is another Kagoshima dish widely enjoyed by our customers!
Restaurant information

Kumasotei: Traditional Satsuma Cuisine
TEL:099-222-6356
6-10 Higashi Sengoku-cho Kagoshima City, Kagoshima Prefecture
Opening hours
Lunchtime: 11:30-14:30 (13:30 OS)
Evening:17:30-22:00 (21:30 OS)
Closed: Over the New Year Holidays. Subject to change. Please inquire for more information.
Seating options
There are several diverse room types available, ranging from a private room to a large hall setting.